Uniform Shop
For many years it has been Chapman School Board policy to endorse the wearing of the Chapman School Uniform. This has the dual purpose of engendering pride for the school in the children, and of enabling immediate identification of Chapman students. It is for this reason that students may only participate in official school excursions if they are dressed appropriately.
The uniform consists of the following:
Tops with Chapman School Logo
A red polo top (long or short sleeve)
Red fleecy windcheater with zip
Red polar fleece with full zip or ¼ zip top.
Red & black light warm up jacket
Bottoms
Black shorts
Black pants (fleecy track, cargo and straight leg)
Skirts & Dresses
Black Skort/Skirt
Grey, red & white check winter pinafore
Headwear
Red legionnaire hat with Chapman logo
Red wide brim hat with Chapman logo
Optional red polar fleece beanie for winter months
Shoes & Socks
White or black socks
Black Shoes
Runners
Chapman Primary School Dress Standard and Colour Code Policy
This picture displays the variety of Chapman Primary Uniform Choices.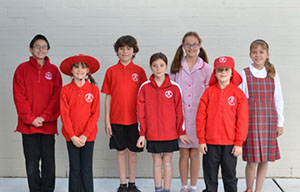 The School Uniform Shop is run by parent volunteers and is open:
Monday mornings 9.00am to 9.30am, and
Friday mornings 8.30am to 9.30am.
2019 Additional Opening Times:
Friday 1 Feb 8.30am to 10.30am
Monday 4 Feb 8.30 to 9.30am
Tuesday 5 Feb 8,30am to 9.30am
Friday 8 Feb 8.30 to 9.30am
The Uniform Shop is located down the hallway from the Front Office.
Email: uniformshop.chapmanps@gmail.com
Please refer to the 2019 Uniform Shop Order Form for pricing information.
Left over House T Shirts are available for purchase. Please use the House T Shirts Order Form 2019.
Kindergarten 2019
Kindergarten Uniform Information and Kindergarten Uniform Order Form.